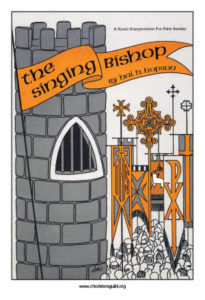 St. Peter's is putting together a virtual church musical to be presented the weekend of March 27th and 28th. Children will be invited to practice songs, submit recordings, and participate together to create a retelling of the story around the hymn All Glory, Laud, and Honor just in time for our Palm Sunday procession. Keep reading to learn more about participating and sign up for continued communication.
How can I participate?
Fill out the form below and you'll stay up to date with the most recent information.
What is the Musical?
We're presenting The Singing Bishop, by Hal Hopson. There are 3-4 group songs (more on that later), a minimum of 4 spoken parts (with a possibility to increase that if there's interest), and very little prop, costume, and set needs. Its minimalism makes it really doable and a fun project for the first part of the year.
When and how will this air?
This musical is all about the history and legend surrounding the hymn "All Glory, Laud, and Honor" which we sing every Palm/Passion Sunday with a palm processional. We will air our finished product on Palm/Passion weekend, March 27/28th. We'll share it as part of our Sunday School offerings on YouTube. Watch for more information.
How will we record music?
Music books can be picked up from 1-2pm on Sundays, February 7th and 14th. Adam will make YouTube videos for participants to sing along with. Participants listen to the video through headphones, record video of themselves singing using another device, then upload to the church's dropbox for Adam to stitch together.
How will we record dialogue?
Those who have speaking parts will gather via zoom to rehearse once or twice, then we'll record a zoom call (with some light costuming and props).
Will there be dancing?
Yes, dancers will put together a dance to go with one or two of the songs. Watch for more information about this and indicate your interest on the form. It will likely involve either a separate meeting or another group of videos.