The mission of St. Peter's is "building a community of faith by God's grace." One of the ways we are building community is by gathering in a virtual way using the Zoom format. Some Zoom groups take the summer off, see below for a description of the group and seasons it meets.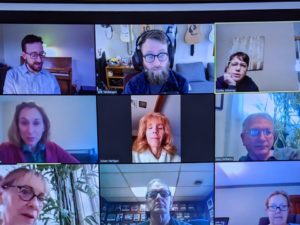 St. Peter's staff members are leading Zoom small groups, and would like you to be part of their group. Please enter your name, your email, and a group you are interested in joining. Details of the groups are at the bottom of this page.
One of our St. Peter's staff members will reach out and connect you to a small group. We look forward to seeing you soon!
---
Crosspoints
Typically this is a Adult learning class that combines church history, theology, sermon study and Biblical application into a variety of topics. Meets on Sunday.
Pub Theology
Pub Theology at one time met in a local eatery or pub. These virtual gatherings are a casual group that meets to discuss many topics including current events, theology, the Bible, and more.
Meets on Wednesday evenings.
Grades 9-12 Youth
This is a place for High School youth to gather.
Talk, relate, share.
Grades 5-8 Youth & Parents
This is a place for youth and parents of Middle Schoolers to gather. Talk, relate, share.
Pre-K and Grades 1-4 Parents (Takes The Summer Off)
This is a place for you parents of elementary and younger to gather with fellow parents. Talk, relate, share.
Faith & Values
This is our class that deals with current events and our faith lives. Particular focus is made on how we may be faithful Christians and faithful to the children, family, and friends in our lives. Meets Thursday evenings.
Wednesday Morning Bible Study
Wednesday Morning Bible Study with Pastor Craig Ross is an adult study experience that looks at our Scriptures with depth and creativity.
Looking To Sunday
Tuesday Lunch time study with Pastor Sarah as we take a look at some of the Bible readings for the next Sunday. It's a relaxed setting with the Bible and conversation.
Music Ministry (Takes the Summer Off)
Be a part of this group to connect with fellow musicians of the church.
Widow's Group
Meets weekly for conversation, support, and camaraderie.
Prayer Chain
This group raises up prayers from the church and community.