Property replanting project update…
By now you have noticed that ALL the plants on the Lititz Pike side of the church are GONE. They had either died or been too overgrown to trim back, So….. Property Committee decided to remove them and replant new ones. You can have a part in this project!
A few weeks back, a church member saw that the plants were removed and asked if she could buy a plant in memory of her beloved dog, Jazzy. I thought that was touching, as I too lost a beloved cat last year. I floated an idea through leadership and the Mission Campaign co-chairs, Adrian and Jen, and everyone liked the idea. Well, Paul, how does it work?
You cannot purchase your own plant, but you can select a plant and make a suggested donation of $50 or $100 (depending on the size and type of plant) or more, to the Mission Campaign (which is funding part of the cost of this major landscape project) in honor of someone or in memory of a loved one or pet. Members of your Property Committee will man a table in the narthex after the second service on Sunday, April 17. We will have a color landscape plot of the front of the church with each plant numbered and a color photo of what the plant will be (helpful for those like me who like colorful plants but can't name a single one, and still believe Dandelions are pretty flowers in the lawn-LOL). Below is a photo of the landscape plot and one of the color photos I mentioned above.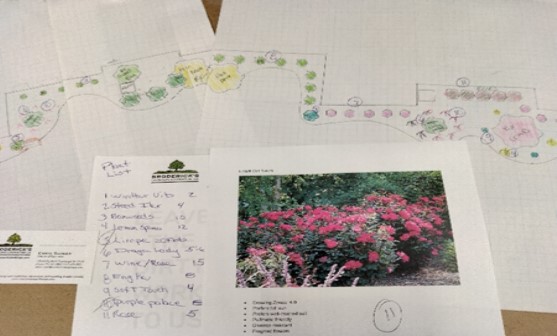 Unfortunately, we cannot install a memorial sign next to the plant you select, but YOU will know the location of the plant that is planted in memory of your loved one or pet. Instead, we will publish a list in a Sunday bulletin and in the Herald with the names of the donors and the name of the person or pet they want to remember.
If you are interested in funding a plant, please contact the office and let them know. You are able to pick your spot and plant.
What a wonderful way to remember your pet or loved one AND contribute to our Mission Campaign appeal!