The rostered leaders have asked me to summarize where we are currently with the Omicron variant of COVID and what that should mean to us as members of St. Peter's and members of our Lancaster County community. I'm a family physician in Millersville, and I've been attending St. Peter's and singing in the choir for twenty years, and I want to keep our community healthy.
We're seeing a huge number of COVID cases in the county right now, far beyond what we saw last year at this time, the previous peak. This does not include the increasing number of cases that are not officially reported, diagnosed by home tests. We should assume it is everywhere, because it probably is.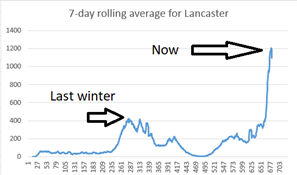 Omicron may or may not be "milder". Initial reports from South Africa suggested it didn't often affect the lungs, but that was a much different population of patients. My colleagues and I are not seeing a milder illness. Hospitals are close to being overwhelmed. This variant has exploded, and we are clinging to the hope that it will pass relatively quickly as well, peaking within the next few weeks.
We still need to take this seriously. If you have not been vaccinated, please get your first shot. We are lucky to have vaccines that have turned out to be not only incredibly effective, but also safe (clear at this point, after 520 million doses given).
If you are vaccinated, consider getting a booster. This tops off your antibodies, making it less likely to get infected at all with COVID for the next 3-4 months, and gives added protection against Omicron complications. Most boosted patients feel like they have a typical cold when they get infected; by contrast, a 50-yr-old unvaccinated patient of mine just died at home before his wife knew he was having symptoms.
What else can we do? For a while, we need to go back to masking every time we're around others. We need to assume others are infected, because they probably are. This includes even small groups, at least for the next month or two. St. Peter's just updated their masking and quarantine policy (https://www.stpeterslutheran.org/safety-protocol-while-in-the-church-building/), which is great!
Let's up our mask game. Give up the cloth masks—surgical and N95 masks are easily available now, and much better at protecting you. (A word, though: none of them work if they aren't fitted well. They should be tight but comfortable.)
Get home antigen tests, and if you have any question about whether you are contagious, use one before coming to church. These tests have a reputation for not being accurate, but they are misunderstood. They are excellent at doing one thing, and they do it better than PCR tests: they tell you if you are contagious at that moment. So if you wake up with sinus symptoms, test yourself before you take the chance of infecting others.
I truly believe that, unless there is a new and different variant around the corner ("pi", I guess?), 2022 will be a transitional year for us with this pandemic. We're so tired of this, but I can see major progress coming. Game-changing pills called Paxlovid work like Tamiflu if you catch COVID early, and should be available towards summer. Vaccines will be offered to younger children by summer. Once these things happen, COVID won't be anything we need to fear. I can see St. Peter's getting back to the kinds of fellowship we have missed so much over the last 2 years, and it really won't be too long.
For now, though, we're still in the thick of it. Please get your vaccines, mask up, avoid high-risk groups, and test before coming to church if needed.  We've come so far from the days of wiping down our groceries. Omicron is a bump in the road, but it's one that we need to take seriously to protect our families and our community.
Dr. Dave Emmert is a family physician at Penn State Medical Group Manor in Millersville. We are grateful for his knowledge and his guidance as we navigate this pandemic here at St. Peter's.