If you were at traditional worship services, or if you tuned into our livestream, you may have heard Pastor Martin Zimmann reference a number of hymnals during his sermon. Of course he mentioned the "green one" (Lutheran Book of Worship), the "blue one", (With One Voice), the "cranberry one" (Evangelical Lutheran Worship), and the "purple one." I saw more than a few quizzical looks and thought it was time for an introduction to our latest worship resource from the ELCA and Augsburg Fortress: All Creation Sings.
As we have progressed through the cycles of hymnal creation, you may have noticed a pattern. About 15 years into the life of a primary resource we get a hymnal supplement. After LBW's release in 1978, we found ourselves in need of more worship resources that reflected the church's needs and the times. Enter, With One Voice in 1995. We now find ourselves 15 years after ELW's release. Can you believe we've had that hymnal for 15 years?! Following the pattern, Augsburg Fortress and the ELCA worked to create and release All Creation Sings a new hymnal supplement, in 2020.
"Don't we have plenty of songs to sing?" "What's wrong with the old songs?" "Why do we need this?" I can hear these thoughts from here and they are important questions to ask. Hymnal supplements such as this are not meant to be a replacement resource. Instead supplements are a way for worshiping communities to encounter the word of God in new ways and retaining access to those songs which form the core of our expression of faith.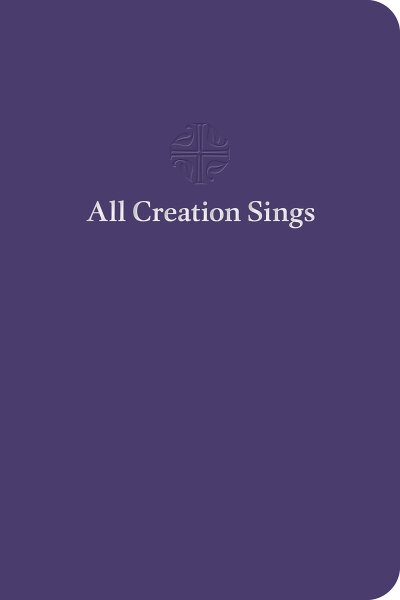 I'm hoping to spend the next couple of weeks helping us to explore this resource and what it may have to offer. Here are a couple of little statistics for now. The new supplement includes 200 songs to sing, new settings of the liturgy, and a host of newly written prayers that will serve as a resource for all worshipers and worship planners. The songs included in this resource are not all new. Some songs are familiar words set to a new tune. Some songs are familiar tunes with new words. Some songs are familiar words to familiar tunes. We actually now have Deep River and When the Saints Go Marching In in a hymnal resource!
As part of our already purchased access to worship planning resources, we are able to make use of much of this resource by reproducing songs where we so desire. The church has also acquired enough hymnals for the choirs to begin becoming familiar with the contents of the supplement. It's my hope that this new resource will serve to enliven our faith, remind us of God's ever-present spirit, and give us new songs to sing in a world that needs our light and life.