This summer has been one of renewal.
As we have gathered together again to pray, praise God, and proclaim the resurrection I have rejoiced in our gathering. Personally, hearing God's people sing again has been a great source of rejoicing. Despite our renewal, however, we are not completely "out of the woods" and have taken steps to mitigate the spread of disease as the Delta variant of Covid rips through our community.
You may wonder, how do we assess risks and make decisions about the form of worship services, space usage, and personal behavior? As we have walked through this pandemic I and the rest of the staff have relied heavily on guidance from the CDC as well as this website to help make good determinations for how to be in our space during worship. Here, I'll walk through the data I've recently plugged into this website and the results it gives.
General Info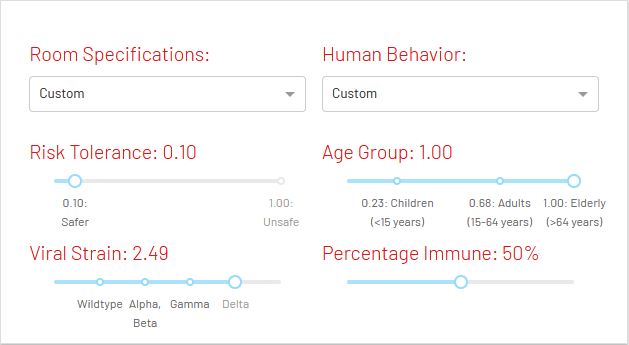 First we work with some general information. You'll see room specifications and human behavior are listed as custom; we'll drill down into that in a bit. I have leaned toward a lower tolerance for risk and toward the higher end of the age groups listed. I have selected the Delta strain of the virus and input the percent of the population of Lancaster County listed as vaccinated on covidactnow.org.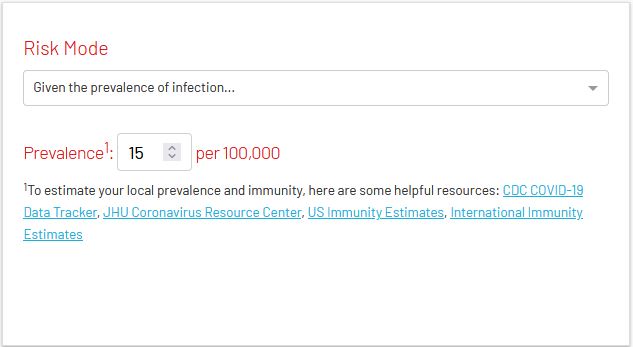 Next, I input the most recent data for cases per 100k (again from covidactnow.org).
Room Data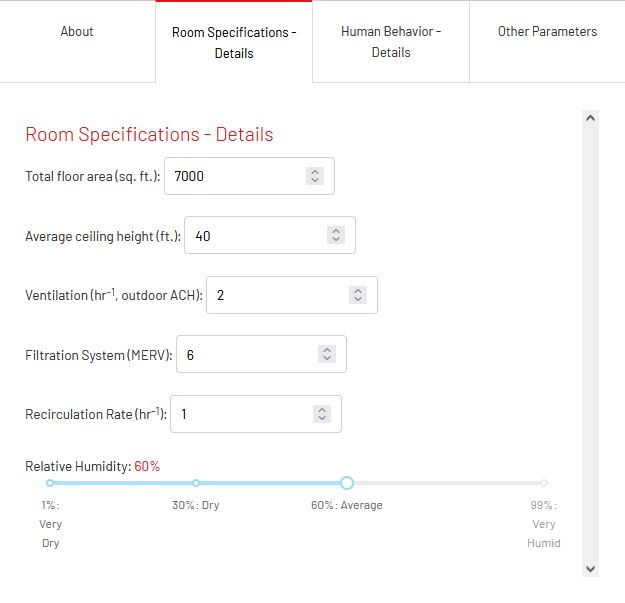 Next up are the room details. I've made some assumptions here because I'm not privy to the EXACT details. If you are more in the know, please let me know. After stepping off the room and some back-of-the-napkin calculations I get the floor area of the sanctuary to be about 7000 sq. ft. and the ceiling looks to be about 40 feet high.
Human Behavior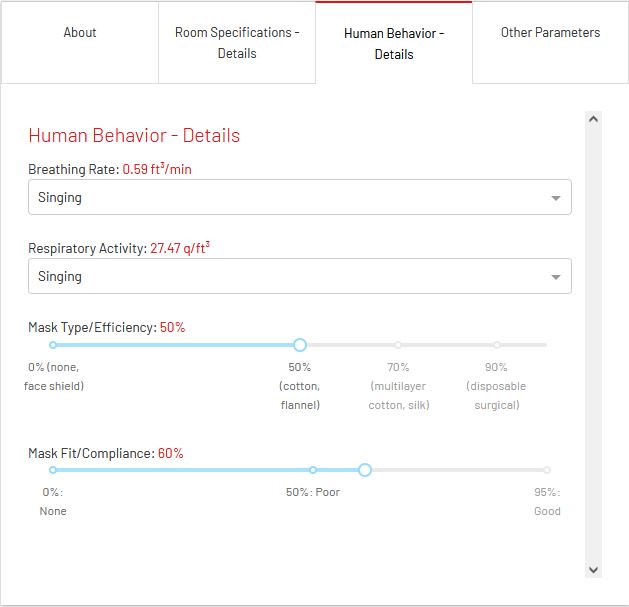 Last, I input the human behavior in our sanctuary space. We're singing, largely wearing cotton masks that as a general rule don't have the best fit over our faces. This isn't a criticism; it's merely pragmatic. Personally, I have plenty of cotton masks that don't really fit tightly across my cheeks and I assume many of us would find the same.
Results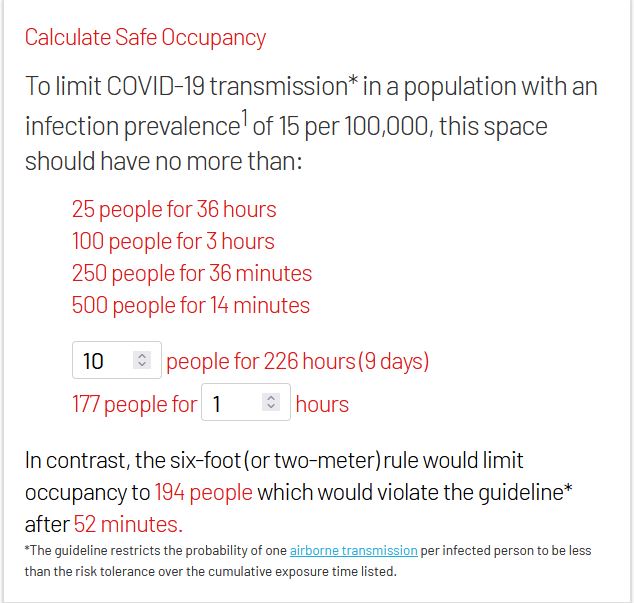 After inputing all this information, the calculator goes to work and spits out a bunch of numbers. The number which has been most useful to me and the rest of the staff has been the number of people for 1 hour that you see about 2/3rds of the way down the image. The result as calculated here implies that were 177 people to spend MORE than an hour together in this room, with this behavior, in a community with this prevalence of infection, the risks are greater than what we asked for.
As the numbers have changed, so have our responses to keep our community safe. Of note, a low prevalence of infection coupled with a high rate of vaccination have been instrumental in reducing the risks associated with gathering for church. The Delta variant is a setback, but we're finding that a lot of the activities we have been engaging in are reasonable, especially when people wear masks.
As I wrote earlier, if you see any goofs in here, PLEASE LET ME KNOW. I love working with correct data and I fully recognize that I made a few assumptions here. I haven't been able to find the right places to get exact numbers for everything and would appreciate having a clearer picture going forward.
Peace to you all and please make good decisions about staying safe!