Hi Folks. Here are some news items for the coming week including updates, kick-offs, and our gratitude!
GETTING BACK TO IN-PERSON WORSHIP
When will indoor worship resume, you ask? 
Our answer to that question is informed by the following the following guidelines for opening that have been put in place by our synodical bishop, Jim Dunlop: Less than 20 cases per 100,000 persons and a test positivity rate of 5% or less.  As of April 7, Lancaster County is at 35.4 cases per 100,000 persons with a positive case rate of 10.4%. 
Sadly, it appears that the numbers of Covid cases in Lancaster are rising again. We monitor the numbers on a daily basis and will be looking for downward trends. At this point, we are asking our members to still be vigilant, continue to social distance and wear a mask. Be aware that your worship staff is in the process of being vaccinated and encourage our members to be vaccinated when it is feasible. We encourage you to take advantage of our drive-in services if you are able as well as our continued weekly live stream. As we once again start to plan for returning to in-person worship, please be aware that four of our leadership teams at St. Peter's are involved in this decision-making process: Risk Management, Worship, Congregation Council and Church Staff. Currently the metrics we are watching closely are ones that our Lower Susquehanna Synod has recommended to the congregations in our synod. The two primary metrics our county needs to meet are: (1) Less than 20 new cases per 100,000; and (2) Less than a 5 % positivity rate. We are all extremely anxious to get back in worship, but we are committed to doing so safely. Thank you for your understanding and support.
MISSION CAMPAIGN KICK-OFF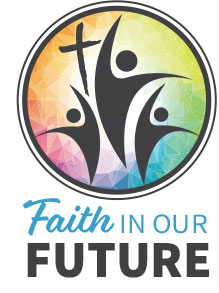 We formally kick off our Mission Campaign this week as a reminder that our Risen Lord calls us to be people of mission, both within our walls, but especially out in our community.  Over the next few weeks each household will receive a Pastor's Letter as well as a brochure, which outline our Mission Campaign goals, objectives, and projects. The week before our May 2 Town Hall Q&A, you will also receive a proposal with a commitment card with which you can support the Faith in Our Future campaign. Our Mission Campaign webpage continues to be updated and is the information hub to find campaign updates and materials. We invite you to pray and consider how you can strongly support this campaign. Mark your calendars for a digital Town Hall Meeting on Sunday, May 2 at 9:15 a.m. centered on the Mission Campaign goals and projects.  Please pray for our campaign leaders and join them in strongly supporting these initiatives. Check out this video mission minute video from the rostered leaders that touches on the mission campaign!
THANK YOU TO OUR VOLUNTEERS
We extend our thanks to many in our community, that offered their time and talent to our Lenten/Holy Week activities. From worship volunteers who kept our worship space so well organized for the variety of services … to those who read, sang, and played in our worship settings … to educators who offered lessons during the season and children's messages … to our property volunteers who made sure we had lights and heat and electric inside the building, along with beautifying our grounds … to administrative helpers who got resources and bulletins together and distributed … to those who donated financially to our ministries' along with gifts to local benevolences … and to so many of you who tuned in to the wide variety of on-line offerings in worship, music, education, and community building.
LIVE STREAM WORSHIP THIS WEEK
This Sunday, April 11, we will worship in the sanctuary via Live-stream at our usual time of 10:45 a.m. at  https://www.stpeterslutheran.org/live.   We will encounter the familiar "Doubting Thomas" story from John's gospel.  We hope you will join us as we continue to celebrate the empty tomb of resurrection.