Hi Folks. With Christmas Eve coming up we have some great updates and reminders. Check them out!
CHRISTMAS EVE WORSHIP
Drive In Christmas Eve Services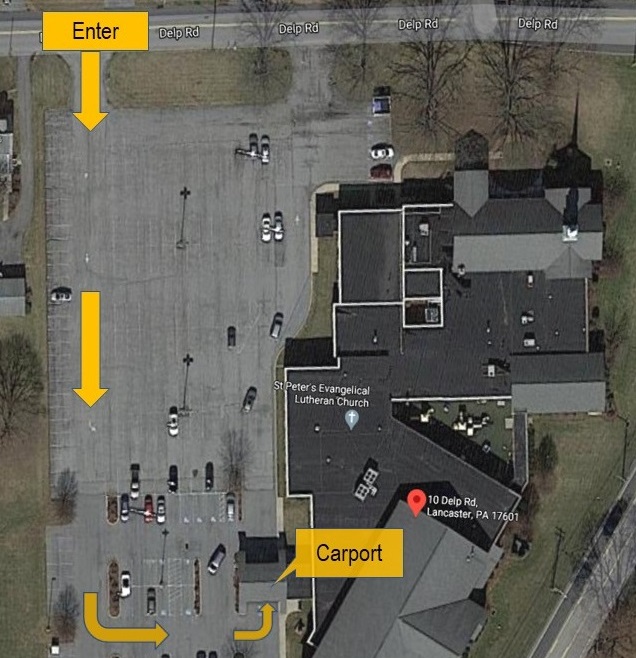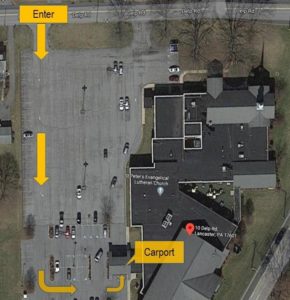 We will be having several Drive-In Family Christmas Eve services (1PM, 2PM, 3PM & 4PM). In the safety of your car, you and your family can receive communion using our "fellowship cups" and sing your favorite Christmas carols at the top of your lungs.  Children will receive animal masks to remind us of what it might have been like at Jesus' birth, and each car will receive battery operated lights to help bring light as we sing Silent Night. Resources for the service will be handed out under the carport. Please note the traffic pattern to use through the parking lot.
If you haven't already, please make sure to make a reservation for the service you wish to attend using this link. https://www.signupgenius.com/go/20F0A4BACAB2FAAFA7-christmas . 
Christmas Eve Livestream
Join us at stpeterslutheran.org/live for a livestreamed Christmas Eve service at 7:30pm. The service will feature a Traditional Christmas Eve worship with the reading of the Nativity story, and scenes from our sanctuary space, special music featuring bells and choirs, and even a special rendition of Silent Night. Be sure to grab your candle and join us for this special livestreamed service!
LESSONS AND CAROLS
This Sunday, December 27, we will worship in the sanctuary via Livestream at our usual time of 10:45 a.m. at https://www.stpeterslutheran.org/live. Join us as we offer a traditional service made up almost entirely of Christmas prophecies and readings, and seasonal hymns, in celebration of Jesus' birth.
DARKEST NIGHT SERVICE
This healing service will be hosted by Pastor Craig on Zoom. Led from the sanctuary, this quiet service will offer scripture, song, candle lighting and prayer, as we voice publicly the loss and pain that bring a special sadness at this time of the year. If you are interested in attending, please email Pastor Craig Ross for a Zoom Link.
COUNCIL PRESIDENT UPDATE
Beth Soslow concludes her presidency at the end of this month, though she will remain on Council for another year. We thank Beth for her excellent leadership, especially this year, given all the uncertainties and unusual scenarios that have developed.
POINSETTIA PICK-UP
The church will be open on Christmas morning and on December 26 from 9:00AM through 1:00 PM, for those who would like to stop by to pick up poinsettias they placed as memorials this year. After those dates, please call the Church Office (717-569-9211) to make an appointment to stop by to get your poinsettia.
SAGES UPDATE
Due to greater risk of virus transmission, poinsettia deliveries will not be made to our Sages this year. Sages or their family members may call the Church Office (717-569-9211) to make an appointment to pick up a poinsettia if they desire one.
CHURCH OFFICE HOURS
Please note the changes in our Church Office schedule for Christmas Week.
December 25:closed
December 28:closed (the day after Christmas, deferred)
December 29-31: call ahead appointments required
January 1: Office closed for New Year's Day
God's Peace,
Your Church Staff