One of St. Peter's Lutheran mission partners is the Busoka Lutheran Church in Tanzania. We have had a healthy partnership with them for 15 years. During most years our major fund raiser to raise funds for the orphans in Busoka's care has been the cookie walk. This year the fund raiser had to be cancelled due to rising covid levels, but that hasn't hampered correspondence, compassion, and creative ways to raise funds. Check out some updates!
Our friends in Busoka, Tanzania
St. Peter's became an active companion congregation with the people of Busoka Lutheran Church in Tanzania in 2006. Our companionship has grown to visiting each other, praying for each other and with St. Peter's providing some financial support to the people of Busoka. During wind storms of January 2019, our mission partner's church was destroyed. We have been raising funds to help support their rebuilding
One Family's Way of Raising Funds For Orphans
This year's St. Peter's Cookie Walk turned Drive-Thru had to be cancelled due to a spike in covid cases in Lancaster County. This fundraiser has been a way to raise money specifically for the orphans in the village's care. Usually there are about 100 orphans who seek out the hospitality of Busoka.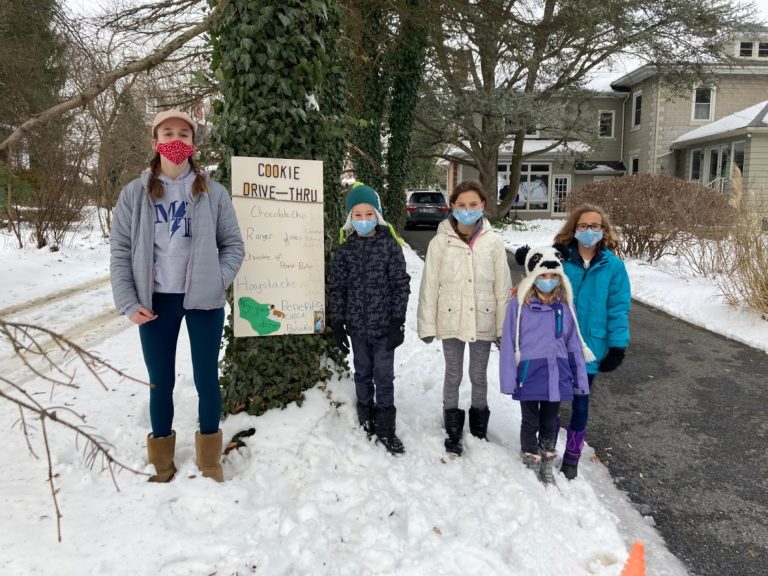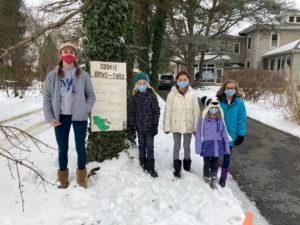 Though we couldn't gather for this fundraiser, that hasn't stopped you from being generous. Thank you!
One family had the bright idea to have their own cookie drive thru to help raise money for the Busoka orphans!
When St. Peter's had to cancel their cookie walk/drive-thru, Ellen Hosler came up with her own version. She enlisted the help of her siblings, Anne and Jeremy, and her cousins Miriam and Ruth, to plan and develop a cookie drive-thru at their house.

They spent several days baking four varieties of cookies and set up the route that customers would travel to purchase their baked goods. Then the e-vites were sent out to selected friends and family. They were able to raise $200, half of which will be donated to the orphans of Busoka and the remainder to ORCA, a local animal rescue organization. Check out this brief video of two customers buying their cookies.
You can help out the orphans as well! Checks can be made to St. Peter's Lutheran Church, and in the memo write 'cookie walk' and your donation will directly impact the life of the orphans in the care of Busoka.
Christmas Greetings From Busoka
Recently the members of the Tanzanian Mission Committee received the following message from Pastor John Mwasakilali
It's so nice to hearing from you in this wonderful season of Christmas. May the almighty God continue to bless you…We still [are] proceeding with Busoka's church's construction. I hope our brother Murdock told you a lot about it and took some pictures to show you how the new Building looks like. Lastly, I would like to wish you a happy and blessed Christmas. May the living God be with you in the time you will be entering that happy New Year. Yours John
A Recent Visit to Busoka
Peter Murdock, a member of St. Peter's and good friend to many folks in Busoka, made a recent visit to the village and church.
I had no formal meeting with the orphans this trip, however, I met many of them on our walk-arounds and they seem well and very grateful to the love and support from Saint Peter's. 

-Peter Murdock

Peter heard that Pastor Hudson Mwamboma was being transferred to a new parish in the region, and was able to say farewell to Pr. Mwamboma and his family at the Sunday service, on November 15, 2020. The worship service was filled with both joy and sorrow as the congregation of Busoka paid tribute to his 5 year ministry filled with light of his spirit. The new leader, Pastor Nazaleth Mwaitebele and his wife Tosiqwege Kaaje moved in a week later.
Peter also was able to see how the rebuilding project is coming along. The main weight bearing columns are up, the land is cleared, and ready for cement. In September the village celebrated the cornerstone laying for the new church building!
One Cornerstone
This past Fall our mission partners celebrated the milestone of laying the cornerstone for the new church building. Though we are many miles apart from each other, we share the same true cornerstone, Jesus Christ. May our work in Lancaster and in Busoka find firm foundation as we continue to pray for each other, support each other, and serve the Lord!