Hi Folks – here is this week's Wednesday update on news from St. Peter's.
Drive In Worship Begins This Sunday Evening at 6:30pm
We have made final preparations for the kickoff of "Drive In Worship" this Sunday, August 30th at 6:30 p.m. in our church parking lot (where else?)  Enjoy this video to show you what to expect!

Please be aware of these requests we ask of those of you planning to attend:
Please help us plan for worship by calling ahead to the Church Office and letting us know your name and the number of people attending (for planning and for contact tracing, if needed). Call the church office at 717-569-9211.

Please enter the parking lot by the western Delp Road entrance, and ushers will direct your car to an area where you will receive worship resources, and then be directed to a parking spot. Ushers will park cars in the order of arrival, and direct you to a spot.
You will receive an inclusive bulletin for the service and a communion element packet from ushers upon arrival.
You are asked to wear a mask at all times unless you are in your car with the windows rolled up. While on premises, practice social distancing, and please do not linger after the service concludes.
Tune into the service through your car radio. Tune into FM 107.1. If you choose to sit outside, keep your radio on, and bring a lawn chair outside of your car placed right next to the driver's side door. Please be masked. Sound will be transmitted by an FM Transmitter only, so be sure to have a working radio with you.
Bathrooms will be available for use in the Youth Lounge.
Please observe these safety precautions so as to keep your fellow worshipers safe, and enable us to continue this service into the fall, and we'll see you at Drive-In Worship!
Live Stream Worship Continues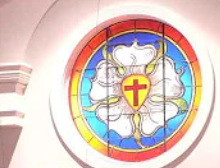 Church@Home continues from the sanctuary at 10:45 a.m. We continue experiment with our live-stream cameras for use in the sanctuary, in an attempt to give some different "views" of leaders and our beautiful worship space.
Backpack & Mobile Device Blessing August 30th
Whether the child in your life is starting school on site or virtually from home, they're going to have a backpack or a tablet to keep their learning tools together.  So, we will have a Blessing of Backpacks & Mobile Devices on August 30th at our 10:45am Church@Home live stream service and our 6:30pm Drive In Worship, this week.  Have your children bring their learning tools to worship!
Portals of Prayer
Portals of Prayer are available for those who use them. Please call ahead to the church office to arrange a pick-up between 9AM – 12 Noon, Monday through Friday.
Material for Quilters
Quilting material is needed, as quilters continue to work remotely in our quilting ministry. Please drop off the material on the table outside the Church Office. Call ahead before coming to make sure someone can let you into the building.
God's Peace,
Your Church Staff