News from St. Peter's: July 1, 2020
Hi Folks – here is this week's Wednesday update on news from St. Peter's.
Worship in our Sanctuary
We continue to make preparations for in-person worship in our church building, starting with the church sanctuary. 
The pieces we must have in place to safely offer in-person worship in the pews includes: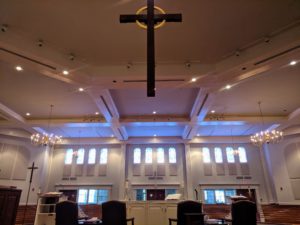 (1) Activating an external air exchange unit on our new HVAC equipment, along with staff training on how to use it.
(2) Having adequate supplies of cleaning, sanitizing and safety equipment.
(3) Having a seating reservation process in place since we will have limited seating available.
(4) Gathering and training a team of "ushers" who will help us enter, exit, and maneuver safely within the building. 
We are hoping that by the end of this month these pieces will be in place, but church staff is not able to control all of the variables that must come together.  Please note that we are also continuing our preparation of the church sanctuary for live-streaming of our worship services, primarily through the procurement of necessary equipment and upgrading work being done in our sanctuary AV Room.
Church Office
The church staff is gradually returning to life in the church office on a staggered basis.  We have staff coverage for the office for half days at the moment (mornings from 8:30 a.m. to noon) on most Monday through Thursday's.  You can call the office during that time for information. 
Details about accessing the church can be found on our Safety Protocol While In the Church Building page.
If you need to meet with a staff member in person, we ask you to call and make an appointment to come in.  We will not be accepting "drop-in" visits with staff members for the time being.  You may stop by the office during these morning hours to drop something off, or ask a staff member a question.  We will ask you to sign-in when entering the building (for virus-tracking purposes), then you can come to the church office window to talk with a staff member. 
There will be a table on the narthex side of the window, which along with the office counter, will allow proper social distancing.  Remember that face masks are required to enter the building.  We ask your cooperation with these measures as safety protocols that protect us all.
Church Office Closed
Please be aware that the Church Office will be closed on Monday, July 6 as a "deferred holiday" from Saturday the 4th, as dictated in our Human Resources manual.  The office will be open again on Tuesday, July 7, with hours as mentioned above.
Food Bins
Please remember that the food donation bins at the front entrance to the church (under the carport) are for non-perishable items only. Please do not leave anything that needs refrigeration, especially in these hot days of summer. Our thanks to those of you who are remembering to support our feeding ministries.
We thank you for your patience … we thank you for your prayers … we thank you for your support through your gifts of time, talent and treasures in these challenging and unusual days.
God's Peace, Your Church Staff