Hi Folks — in an effort to keep you as up-to-date as possible, we will be offering this weekly update on news from St. Peter's every Wednesday. We hope it will help you stay connected to the variety of moving parts in our congregational life and ministries.
Giving Thanks For Your Faithful Giving
Your financial stewardship remains strong.  We could not be more grateful.  We have been able to keep our entire staff employed, and each week we find new ways to create connections with the congregation from our homes and through digital platforms.  Thank you for mailing in your contributions and for using Tithe.ly or Simply Giving for your contributions.
We continue to support our mission partners far and near, along with our local and national benevolent partners. We are currently exploring some additional mission support to some of the local benevolent ministries with which we partner here in Lancaster. We are striving to model the same sacrificial giving we ask you to model in your stewardship.
CARES Act Loan
You should be aware that we applied for and received one of the CARES Act "loans" from the government.  We expect to have most of our "loan" forgiven since we have been able to provide personnel and property expenses with it.  Our hope is to have a nest egg of funds, in case the virus returns in the fall, and we face some additional financial hardship.  If you are able to continue your strong financial stewardship, we will have some funds available for community outreach. 
St. Peter's Relief Fund
We have formed a benevolent relief fund, that will allow church members to receive a one-time grant of up to $1,000, if they are unable to access some of the government assistance programs in a timely way.
Connections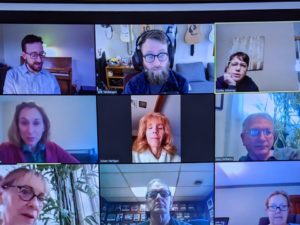 Our staff members are teaching six weekly educational classes through Zoom, and we are posting regular devotional and educational offerings through our website.  We are currently exploring digital options for education over the summer months
Special thanks go out to the Congregation Council, for their leadership in a world none of us could have imagined three months ago. Thanks also are extended to a variety of other committees whose ministries are helping to serve/connect/support church and community members.
We continue to thank those of you who are reaching out to other members who may be at risk … or alone … or struggling with their isolation. Thank you for your cards, calls and prayers for those in need around you.
You have already seen our Senior High Recognition during our May 10 Church @ Home worship. We are working on plans for Confirmation and baptisms, VBS and other congregational milestones we need to honor.
A reminder that we have delayed the decision on moving forward with our capital campaign until the fall, at least, given the need to focus on more immediate priorities of re-envisioning church life in a primarily digital landscape.
Let us know if you see gaps or needs in our congregational landscape. 
Pray for us as we pray for you. 
Together, we are God's people in a new world.
We'll talk again, next Wednesday.
God's Peace,
Your Church Staff