Each week we're spotlighting a ministry at St. Peter's to show our mission in action. This week, we're looking at our Evangelism Ministry.
---
Our Ministry
Our proposed mission statement is "Building a community of faith by God's grace." Part and parcel to building community is raising up disciples. One of the descriptors in our proposed vision statement states that because we desire to make disciples, we will "share the good news in creative and authentic ways with the St. Peter's family and with neighbors in our community."
As part of our ministry, we actively welcome visitors and have a thorough follow-up process that helps them get connected to rostered leaders, ministries and the church community. Our evangelism programs involve a warm welcome desk, visitor follow-up, name tag Sundays, new member classes and blessings, shepherd programs, new member reunions, and communicating ways to become more deeply engaged in discipleship.
Go therefore and make disciples of all nations, baptizing them in the name of the Father and of the Son and of the Holy Spirit.

–Matthew 28:19
Bob & Edee Bedford, Welcome Desk Volunteers

"We are happy being assigned to the Welcome Center. We consider this as an opportunity to become more acquainted with present members, as well as meeting and welcoming prospective members. Additionally, we do not hesitate to approach anyone who appears new or visiting. Introducing ourselves, the conversation eventually ends with our statement: 'there is a very caring church family within St. Peter's."
---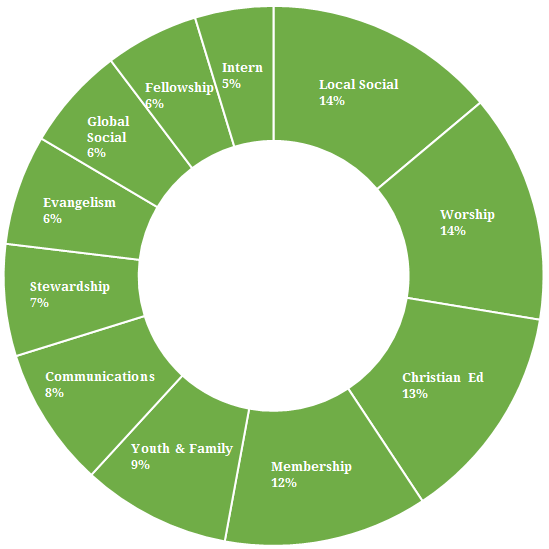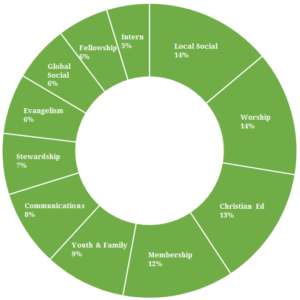 6.6% of our budget supports our Evangelism Ministry