Email Devotion Pentecost 11
In the beginning when God created the heavens and the earth, the earth was a formless void and darkness covered the face of the deep, while a wind from God swept over the face of the waters. Then God said, 'Let there be light'; and there was light.

(Genesis 1:1-3)
There is a change occurring in my house.  It may not be obvious given the chaos of the picture here, but I can see it.  For the past year and a half the train table I made for my grandson, Sam, has been dominated by Thomas the Train and Brio toy trains.  But in the past forty-eight hours a transition has occurred, while Sam has been sleeping over at our house.  The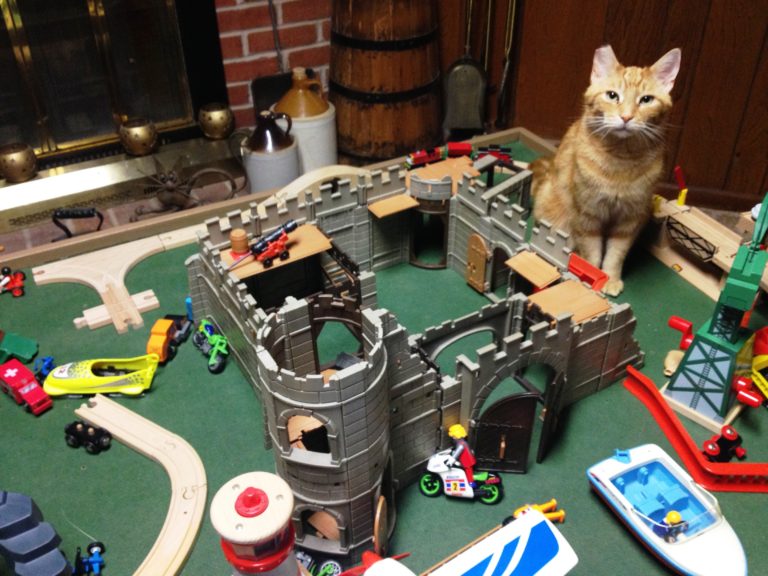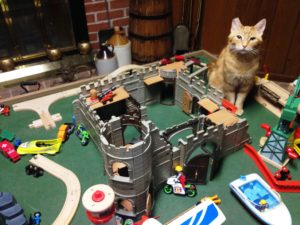 trains are disappearing from the train board, to be replaced by Playmobil toys that Sam's mom and Uncle Justin played with when they were kiddos.  There is still a remnant of train tracks on the board in this picture from last night, but like the disappearance of trolley cars from our cities, in this moment that I write, the board is empty of trains.  The Playmobil characters and their equipment have taken over.  The Playmobil coup that began two weeks ago while on vacation has been completed.  They now rule the roost of toyland at the Ross household.
Take-overs are like that, right?  They are just a little sloppy.  The landscape in which we live changes, sometimes dramatically.  There is always some resistance.  And even when the end result is a good one, we tend to struggle with it because it demand different responses from us, and presents new expectations of us.
God's call to discipleship at times feels like a take-over of my life.  The ongoing transformation that is required brings changes I am not always comfortable with, because I typically prefer to do things my own way.  The expectations God has of us in terms of the way we live our lives makes demands upon me I do not always feel equipped to deliver on.  And thus I resist and I struggle to fully embrace the calling.  And yes … some days the landscape feels pretty sloppy.
But the transformation God enacts in our lives is always for the good, and always brings the light of Christ into our lives.  Like the creation story itself, God's nature is to bring order out of chaos and light into dark places.  If the journey of transition is a little rocky, the experience on the other side will be worth  every dark moment, and every dip of the toe into the places of watery chaos in your life.  Pray for vision this week to see beyond the darkness … courage to embrace new challenges … and joy to celebrate the gift of transformation.