Let's get to know…
Music!
Have you ever considered what a service on Sunday morning would be like without music? Without hearing the voices of the choir or the sound of the instruments playing?
Music is powerful. It is an integral part of our worship. It taps into our emotions and lifts us up. Our pastors provide the word of God, and music provides His spirit. We sing to praise God, to feel his presence, and to draw closer to Him.
As Lutherans, our history in music is rich. Martin Luther made a significant impact in worship and music. He understood the tremendous benefit resulting from hearing the Word of God and then uniting as a congregation to offer thanksgiving in song. Luther began to compose hymns in 1523, the exact number of which has been disputed. However, at least thirty-six hymns have been attributed to him.
Luther's compositions were the natural product of his great passion for music. He was accomplished at the lute, the flute, and was known to have a powerful tenor voice. He was so committed to the high place of music in the life of the Church that men had to demonstrate competency in music before they could be accepted for ministerial training.
We at St. Peter's are extremely blessed to have so many talented and willing members that participate in our various musical programs – including (but not limited to) the choir, hand bells, singers and instrumentalists — all tirelessly led by our music director Adam Lefever Hughes for traditional services, and Erik Teichmann for our New Day worship.
Traditional Service and Music
We currently have two adult choirs (the Canticle Choir and the Herald Choir), the Jubilate Choir for children, Youth Choir for young men and women,  and hand bell choirs with varied degrees of experience from just learning to 20+ years of ringing. Throughout the year, we have solo and small ensemble performances, both vocal and instrumental.
We also instituted a long-running concert series. The series offers four to seven programs each year, and attendance typically ranges from 150 to 250. The series is self-sustaining, with all expenses covered between a strong patron support and the generosity of audiences.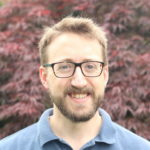 Director of Music
Adam served as Director of Music at St. Peter's from 2015 to 2022.
New Day Service and Music
Chaired since 2011 by Kris Armitage and musically led by Erik Teichmann, New Day worship has grown significantly over the past five years. This worship service began as a Sunday afternoon service, and then to Saturday evenings twice a month. Initially, their attendance averaged 10-20 people. Since 2011, they moved to weekly services at 10:45am (9:45 during the summer) in the Family Life Center, and attendance has grown to between 70 and 100 worshipers each Sunday.
New Day offers an alternative blended worship service that has strong Lutheran liturgy. They embrace the philosophy of "come as you are" with a relaxed worship environment and contemporary music. Led by Erik Teichmann, the New Day Praise Band is comprised a variety of instrumentalists and singers. Each week they prepare music for worship and praise, and welcome new members to join in.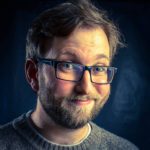 Contemporary Worship Leader
I've been leading music in worship since 2001, and I love to work with others to offer up our musical gifts to God. When I'm not playing guitar and most anything with strings, I build websites and help nonprofits tell their stories.
New Day service worship experience is a very dynamic one, and they are always looking for new and exciting ways to share the Good News. The service offers both the churched and unchurched an opportunity to experience the love that Christ and St. Peter's has to give. According to Kris Armitage, this service has the potential to double in size in the next 5-10 years.
Outreach
Our musical gifts extend far beyond the walls of St. Peter's. Our ensembles frequently participate in Chapel services at Luther Acres with Pastor Cleckley. The hand bell choirs are often integrated into workshops in the area with other churches as well, including Neffsville Mennonite, St. Paul's Lutheran Church in Lititz, Mt. Calvary Lutheran and Westminster Presbyterian Church. Our choirs have shared in a large choral experience with up to nine other church groups – most recently using our St. Peter's facilities. St. Peter's has also sponsored numerous handbell festivals, as well as taking groups to events. There is never a dull moment!
Participate
If you'd like to share your musical gifts, it's easy to get involved. Get in touch with Adam if you'd like to join a choir or participate in Traditional worship, or email Erik if you'd like to participate in New Day.