Vacation Bible School at St. Peter's
The Surf Shack is up in the Narthex and beach balls are popping up throughout the church as we are busily preparing for another great session of Vacation Bible School.
Kids age 4 through grade 6 are invited to join us July 18-22 as we learn about God's Amazing Love through four water-themed Bible Stories, songs, games, worship, fellowship, crafts and more, all while raising funds for a great cause.
Donations collected throughout VBS will support the ELCA World Hunger's Walk for Water Campaign.  This campaign has raised over one million dollars to battle the global water crisis.  Globally, 1.8 billion people drink from contaminated water sources, leading to illnesses that claim 840,000 lives each year.  Almost half of those lives lost are children under the age of five.
Collecting change for a change
The ELCA Walk for Water Campaign supports projects that help provide clean drinking water, sanitation, hygiene and agriculture to those in need in nearly 60 countries including the US.  Children attending VBS will be encouraged to bring in their spare change throughout the week to be donated to the cause.  We will collect pennies on Monday, nickels on Tuesday, dimes on Wednesday and quarters on Thursday.  Each day we will set a fund raising goal tied to a friendly wager with one (or more!) of our Pastors. When a goal is met the Pastor(s) face a fun and embarrassing outcome the kids will not want to miss.
In addition to the coin collection, free will donations are welcome and students in grades 5 and 6 will be collecting donations throughout the surrounding neighborhood.  Let's make this our biggest fund raising year yet at VBS!
Register Now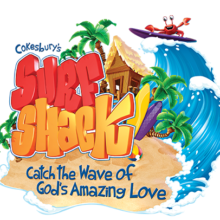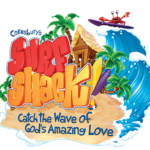 Our Surf Shack VBS will run July 18-22 from 6-8pm.  We will meet in the sanctuary each evening for a group opening before splitting into our groups.  On Friday we invite families to attend together for an end of week worship service and fellowship.
We look forward to seeing you and your children at VBS to celebrate God's Amazing Love!  Online registration is now open!  Registration forms are also available in the church lobby. Online registration will close on July 17.
If you have questions or wish to volunteer, please contact Samantha Cuascut by email or at (717) 586-0330.